Massage Therapy in Danville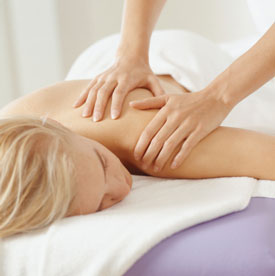 At Sycamore Valley Chiropractic, we want our patients to experience the best in full-body wellness, and that means offering additional modalities outside of chiropractic care that provide and encourage natural healing within the body. We have three massage therapists on site that can help you get back to your life quicker while relaxing in the comfort of our practice.
How Does Massage Benefit the Body?
Massage therapy works to increase the rate of healing within the body. As a natural way to stimulate, stretch and relax your muscles, ligaments and tendons, massage therapy is often the perfect addition to chiropractic care.
At Sycamore Valley Chiropractic, our therapists offer unique care for everyone via sports massage, acupressure or ART. In fact, our chiropractors work with our massage therapists so that they're aware of each individual case and what types of massage will specifically benefit them. Our massage therapists can focus directly on your problem areas, helping you recover easier.
Book Your Massage
If you're already a chiropractic client and would like to know more about our massage services, or if you're new to our practice and are interested in learning more about how massage therapy can benefit you, please contact our practice today.
We look forward to improving your wellness!
Massage Therapy in Danville
Serving Danville and San Ramon since 1984